New Engine Paint: Olds Gold and Olds Bronze
NEW MOTOR COATER ENGINE PAINT COLORS:
OLDS GOLD & OLDS BRONZE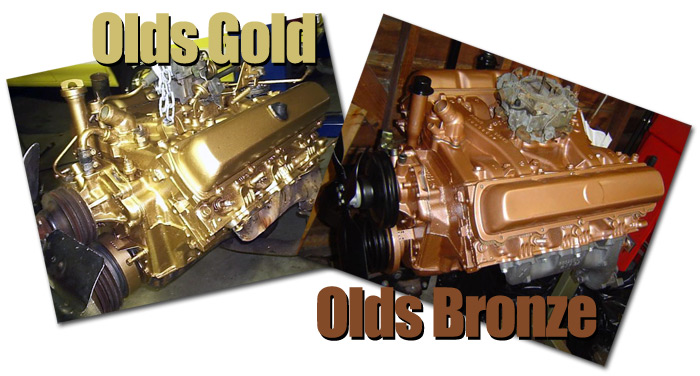 KBS Coatings is excited to announce two new colors to our expanding line-up of Motor Coater Engine Paint colors: Olds Gold & Olds Bronze. Motor Coater Engine Enamel is easy to apply, offers superb coverage and yields a self-leveling professional looking finish brushed or sprayed. These engine enamels provide deep, rich pigmented colors for excellent coverage.
FEATURES OF MOTOR COATER
Fast-drying
High Performance
Extremely High Gloss
High Quality Acrylic Enamel
Brush Marks Flow Out
Withstands Temperatures up to 450°F
Matches OEM Standards
Will Not Blister, Flake, Crack or Peel
Oil, Transmission Fluid and Gas Resistant
Great as a Brake Caliper Paint Too!
A Pint is Usually Enough to do an Entire Engine
MORE INFORMATION AND DIRECTIONS ON MOTOR COATER ENGINE PAINT
At KBS Coatings, we believe that offering the highest quality Engine Paints is simply not enough. We alse believe in offering the best world-class customer support for using and applying all of our superior coatings.
+Click Here to purchase Motor Coater Engine Enamel
+Click Here to purchase the Complete Motor Coater Kit
+Click Here for the Motor Coater Directions
+Click Here for Motor Coater on the KBS Suppot Forum
+Click Here for the KBS HelpDesk featuring Questions & Answers on Motor Coater Engine Paint
Gold Standard Tank Sealer Feedback on JalopyJournal.com
TANK SEALER FEEDBACK FROM phoenix5x on JalopyJournal.com
"I used the 3 step tank restore kit from KBS Coatings it worked real well… Worked well in 55's gas tank."
+Click HERE to read the entire thread and see what others had to say about the KBS Coatings Gas Tank Sealer Kits.